Built around 1820, the Winemaker's House is an elegant residence also known as Le Vigneron du Clos. It is situated on the edge of the charming mediaeval village of Mirepeisset in the ancient region of Languedoc. Mirepeisset is a thriving, friendly village and its old ramparts are still standing guard above the river Cesse. Its Roman parentage also remains, including the surrounding vineyards of the Minervois, first cultivated by the Romans.
The house is surrounded by walls with a double entrance gate opening on to the gravelled courtyard providing plenty of car parking space.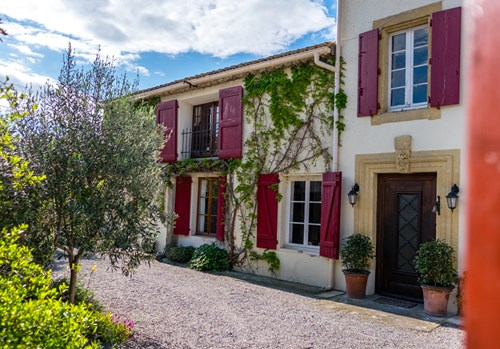 There are two spacious Gites or villas, both with pools, at the Winemaker's House – La Fleurie and Le Fitou. Both can accommodate 6 people in 3 bedrooms and are fully equipped for family or group holidays.
Whichever Gite you choose they are perfectly placed for the beach, mountains, sight-seeing, Cathar castles, wine tasting, hiking, bicycling, boating on the Canal Du Midi, water parks, lakes, gourmet dining or lounging by the pool.